FREE e-alerts
Sign up to receive free email alerts containing the Table of Contents for the Journal of Petroleum Geology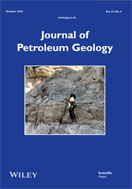 Published in the UK © 2018 Scientific Press Ltd.
World Petroleum Basins Map CD
ArcView 3.0 and Adobe Acrobat formats.

A unique digital map compilation featuring the geological framework and hydrocarbon productivity of all the continents and continental margin areas of the World. Produced in English by SovGeoInfo (Moscow).
Scientific Supervision by V.Vysotsky, G. Ulmishek (USGS) et al.

CD features
:
• boundaries and sediment thicknesses of 549 on- and offshore basins
• locations of oil- and gasfields in 226 basins
• 175 cross-sections through 125 basins
• 142 lithostratigraphic columns with source/reservoir/seal intervals
price: US$250 (corporate) / $95 (personal)
Click here for an order form
orders to:
Scientific Press Ltd
PO Box 21 Beaconsfield
Bucks HP9 1NS
email enquiries to: info@jpg.co.uk