Published in the UK © 2018 Scientific Press Ltd.
Contents of Vol 26, nos 1-4, 2003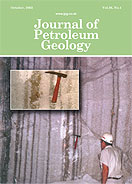 Vol. 26, no. 4, October 2003
• Diagenesis of Silurian reefal carbonates, Kudirka oilfield, Lithuania
by N. Stentoft (Geological Survey of Denmark and Greenland), P. Lapinskas and P. Musteikis view abstract
• Extensional evolution of the Gulf of Mexico basin and the deposition of Tertiary evaporites
by H. H. Wilson (Maryland, USA) view abstract
• Upper Triassic -- Middle Jurassic stratigraphy and sedimentology in the NE Qaidam Basin, NW China: petroleum geological relevance of new outcrop and subsurface data
by Yang Yongtai (RIPED, Beijing), B. Ritts (Utah State University) et al. view abstract
• Burial history reconstruction and thermal modelling at the Kuh-e-Mond anticline, SW Iran
by M. R. Kamali (NIOC, Iran) and M. R. Rezaee view abstract
• Geochemical composition of oils from Palaeozoic reservoirs in the West Siberian Basin
by O. V. Serebrennikova (Inst. Petroleum Chemistry, Tomsk, Russia), T. Ju. Filippova and V.P. Devyatov view abstract
• Light hydrocarbons in Niger Delta oils
by C. Eneogwe (Chevron Nigeria) view abstract
• Index, volume 26
• Referees, vol. 26
• International Events
• Cover photos: Belle Island salt mine, southern Louisiana: thin, boudinaged shale beds and laminae are conformable with primary salt bedding. See the related paper by H. Hugh Wilson in this issue. Photographs by H. Hugh Wilson and R. C. Weissmann.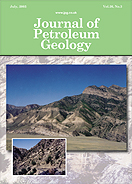 Vol. 26, no. 3, July 2003
• The configuration of the basement beneath the Zagros Basin
by A. Bahroudi and C. J. Talbot (Uppsala University, Sweden) view abstract
• Controls on the distribution of nummulite facies: a case study from the Late Ypresian El Garia Formation (Kesra Plateau, Central Tunisia)
by S. Jorry (University of Geneva), E. Davaud and B. Caline view abstract
• Hydrocarbon potential of Jurassic source rocks in the Junggar Basin, NW China by A. N. Ding (Lanzhou Inst of Geology), R. Y. Hui and Z. N. Zhang view abstract
• Ordovician-Permian palaeogeography of Central Eurasia: development of Palaeozoic petroleum-bearing basins
by V. A. Bykadorov (Yuggeo, Almaty, Kazakhstan) et al. view abstract
• Hydrothermal laumontization and microfracture formation in reservoir rocks at the Yufutsu field, Hokkaido, northern Japan
Y. Yanagimoto (JAPEX Research Centre, Japan) and A. Iijima view abstract
• International Events
• Cover Photo
Lower and Middle Jurassic fluvial-lacustrine deposits at outcrop at Honggou in the Junggar Basin of NW China. Jurassic source rocks in this basis are the subject of the paper by Ding et al. on pp 307-324 of this issue. Main photo: contact between the Lower Jurassic Badaowan and overlying Sangonghe Formations. Inset: coal measures of the Middle Jurassic Xishanyao Formation.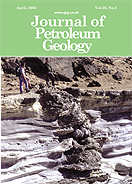 Vol. 26, no. 2, April 2003
• A sequence stratigraphic synthesis of the North African Mesozoic
by I. D. Carr (Oxford Brookes University) view abstract
• Uranium spectral gamma ray response as a proxy for organic richness in black shales: applicability and limitations
by S. Lüning and S. Kolonic (University of Bremen, Germany) view abstract
• The reservoir potential of Miocene carbonate rocks in the Askale and Hinis-Mus-Van sub-basins, East Anatolia, Turkey
by A. Büyükutku (Ankara University, Turkey) view abstract
• Source rock evaluation and geochemistry of condensates and natural gases, offshore Nile Delta, Egypt
by L. Sharaf (Ain Shams University, Egypt) view abstract
• Hydrocarbon seepage generation and migration in the southern Gulf of Suez, Egypt: insights from biomarker characteristics and source rock modelling
by M. A. Younes (Alexandria University, Egypt) view abstract
• Unconventional oil accumulations in the Upper Jurassic Bazhenov Black Shale Formation, West Siberian Basin: a self-sourced reservoir
by N. V. Lopatin (VNII geosystem, Moscow) et al. view abstract
• Erratum: (ESR as a guide to OM maturation, by R. A. McTavish)
• Book reviews
• International Events)
• Cover photo
Lowermost Turonian succession at Oued Mafatma (Tarfaya Basin, SW Morocco): dark, laminated organic-rich marls are overlain by whitish non-laminated limestones. At the top is the Miocene Moghrebien Formation. To the right of the geologist is a possible fossil methane/ microbial carbonate seep. Photo by S. Kolonic.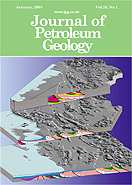 Vol. 26, no. 1, January 2003
• Temperature and burial history modelling of the Drmno and Markovac depressions, SE Pannonian Basin, Serbia
by M. Ercegovac (University of Belgrade), A. Kostic, H. Karg, D. H. Welte and R. Littke view abstract
• Oil and gas plays in Albania: do equivalent plays exist in Greece?
by A. Zelilidis (University of Patras, Greece), D. J. W. Piper, I. Vakalas, P. Avramidis and K. Getsos view abstract
• Geological interpretation of well test analysis: a case study from a fluvial reservoir in the Gulf of Thailand
by S.-Y. Zheng (Herriot Watt University, UK), P.W.M. Corbett and
A. Emery view abstract
• The application of Electron Spin Resonance as a guide to the maturation and typing of organic matter in the North Sea
by R. A. McTavish (Dalgety, UK) view abstract
• Geochemical correlation of crude oils in the NW Niger Delta, Nigeria
by C. Eneogwe (Chevron Nigeria Ltd) and O. Ekundayo view abstract
• Organic petrology of potential source rocks in the Tarim Basin, NW China
by Dameng Liu (China Univ. of Geosciences), Jianqi Tu and Kuili Jin view abstract
• Book Review
• International Events