To see all the articles in full click here for the Wiley Online Library
Contents of Vol. 43, 2020
Vol. 43, no 1, January 2020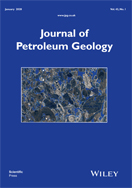 Reservoir characterization of an isolated Middle Miocene carbonate platform: Ca Voi Xanh field, offshore Vietnam. 5-26
C. J. Strohmenger (ExxonMobil Upstream Integrated Solutions), L. Meyer, L. A. Yose, D. S. Walley, M. Md. Yusoff, D. Y. Lyons, J. Sutton, J. M. Rivers, D. Carlo, B. von Schnurbein, D. Zhou and N. X. Phong view abstract
Gas-hydrate systems and gas volumetric assessment in the lower Fangliao Basin, Taiwan accretionary wedge. 27-48
F. Dirgantara (National Central University, Taiwan), A. T-S. Lin, C-S. Liu, C-C. Lin and S-C. Chen view abstract
Source rock quality variations of Upper Jurassic – lowermost Cretaceous marine shales and their relationship to oils in the Valdemar field, Danish North Sea. 49-74
L. Ponsaing (Geological Survey of Denmark and Greenland), H. I. Petersen, J. A. Bojesen-Koefoed, H. P. Nytoft, N. H. Schovsbo and L. Stemmerik view abstract
Reservoir properties of Barremian – Aptian Urgonian Limestones, SE France, Part 1: Influence of structural history on porosity-permeability variations. 75-94
J. Cochard (Aix-Marseille University, France), P. Léonide, J. Borgomano, Y. Guglielmi, G. Massonnat, J-P. Rolando, L. Marié and A. Pasquier view abstract
Dating and correlation of the Baluti Formation, Kurdistan, Iraq: implications for the regional recognition of a Carnian "marker dolomite", and a review of the Triassic to Early Jurassic sequence stratigraphy of the Arabian Plate by G. A. Lunn, S. Miller and A. Samarrai (JPG 42(1), 5-36, 2019)
Discussion. by R. B. Davies (Davies Geoconsulting) and M. D. Simmons. 95–108
Reply, by G. A. Lunn (Consultant). 109-126
Carbonate reservoir rocks at giant oil and gas fields in SW Iran and the adjacent offshore: A review of stratigraphic occurrence and poro-perm characteristics.
by B. Esrafili-Dizaji and H. Rahimpour-Bonab (JPG vol. 42:4, October 2019, pp 343-370): Erratum. 127-128
Cover image shows a photomicrograph of a Middle Miocene carbonate reservoir rock from the Ca Voi Xanh gas field, offshore Vietnam. The grainstone contains red algal fragments and large benthic foraminifera; porosity is shown in blue. Carbonates at this field underwent predominately early meteoric dissolution and variable levels of cementation. Reservoir rocks at Ca Voi Xanh are the subject of the paper on pp 5-26 of this issue by Strohmenger et al. Photo by C. J. Strohmenger (ExxonMobil).