To see all the articles in full click here for the Wiley Online Library
Contents of Vol. 43, 2020
Vol. 43, no 4, October 2020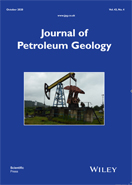 Geophysical characterization of the Sangu gas field, offshore Bangladesh: constraints on reservoirs. 363 - 382
Md. Upal Shahriar (Jahangirnagar University, Dhaka), Delwar Hossain, Md. Sakawat Hossain, M. Julleh Jalalur Rahman and Kamruzzaman view abstract
Forecasting abilities of individual petroleum explorers: Preliminary findings from crowdsourced prospect assessments. 383 - 400
A. V. Milkov (Colorado School of Mines) view abstract
Source rock potential and depositional environment of Middle – Upper Jurassic sedimentary rocks, Blue Nile Basin, Ethiopia. 401 - 418
M. S. Mohammedyasin (Bahir Dar University, Ethiopia), R. Littke, G. Wudie and L. Zieger. view abstract
Numerical modelling of the Australia – Antarctica conjugate margins using the Galo System: Part 2. Thermal and maturation history of the Mawson Sea Basin, East Antarctica. 419 - 436
Y. I. Galushkin (Lomonosov Moscow State University), G.L. Leitchenkov and E.P. Dubinin view abstract
Higher landplant -derived biomarkers in light oils and condensates from the coal-bearing Eocene Pinghu Formation, Xihu Sag, East China Sea Shelf Basin. 437 - 452
X. Cheng (China University of Geosciences, Beijing), D. J. Hou, Z. Zhao, Y. H. Jiang, X. H. Zhou and H. Diao view abstract
Index, volume 43. 453-457
Cover photograph shows surface installations at the Shromisubani oilfield in the Rioni Basin of western Georgia. Oil here is interpreted to be sourced mainly from the Middle Eocene Kuma Formation and is produced from subthrust Pliocene (Maeotian) sandstone reservoir rocks. Photo: JPG.

Vol. 43, no 3, July 2020

Unravelling the complexity of thin (sub-seismic) heterogeneous carbonate reservoirs: an integrated study of the Mauddud Formation in the Greater Burgan area, Kuwait. 249 - 276
B. Vincent (Cambridge Carbonates), O. Al-Zankawi, l. Hayat, J. Garland, P. Gutteridge and S. Thompson. view abstract
Organic geochemistry of Middle Miocene (Badenian –Sarmatian) source rocks and maturation modelling in the Polish and Ukrainian sectors of the External Carpathian Foredeep. 277 - 300
P. Kosakowski (AGH University of Science and Technology, Krakow) et al. view abstract
Petroleum systems of the Bongor Basin and the Great Baobab oilfield, southern Chad. 301 - 322
Lirong Dou (China National Oil and Gas Exploration and Development Company Ltd), Dingsheng Cheng, Jingchun Wang, Yebo Du,Gaojie Xiao and Renchong Wang. view abstract
Numerical modelling of the Australia – Antarctica conjugate margins using the Galo System: Part 1. The Bremer sub-basin, SW Australia. 323- 340
Y. I. Galushkin (Lomonosow Moscow State University), G. L. Leitchenkov and E.P. Dubinin view abstract
Hydrocarbon migration and charge history in the Karanj, Paranj and Parsi oilfields, southern Dezful Embayment, Zagros fold-and-thrust belt, SW Iran. 341- 358
M. Vatandoust (Shiraz University, Iran), A. Faghih, S. Asadi, A. M. Azimzadeh and B. Soleimany view abstract
Cover photograph shows an outcrop of weathered and fissured granitic basement rocks near Juba in South Sudan. Fractured basement rocks provide reservoirs for hydrocarbons in basins in the Western and Central Africa Rift System, including the Bongor Basin (Southern Chad) which is the focus of the paper on pp. 301-322 of this issue by Dou et al. Photo by Lirong Dou.

Vol. 43, no 2, April 2020

Diamondoids and basin modelling reveal one of the World's deepest petroleum systems, South Caspian Basin, Azerbaijan. 133-150
N. R. J. Goodwin (BP Exploration, Sunbury), N. Abdullayev, A. Javadova, H. Volk and G. Riley view abstract
Organic-rich shales in the Upper Triassic Zangxiahe Formation, northern Qiangtang Depression, northern Tibet: depositional environment and hydrocarbon generation potential. 151-170
S. Q. Zeng (Chengdu Center of CGS, China), J. Wang, W. B. Chen, C. Y. Song, Y. H. Zeng, X. L. Feng and D. Wang view abstract
Petroleum geology of the western part of the Central Iran Basin. 171-190
G. Abbasi (Islamic Azad University, Tehran), H. Motamedi, K. Orang and A. A. Nickandish view abstract
Facies heterogeneities and 3D porosity modelling in an Oligocene (Upper Chattian) carbonate ramp, Salento Peninsula, southern Italy. 191-208
M. Brandano (University of Rome), L. Tomassetti, F. Trippetta and R. Ruggieri view abstract
Seismic events in the Upper Miocene – Pliocene sedimentary succession in the Gulf of Izmir (western Anatolia): Implications for hydrocarbon prospectivity. 209-224
Z. Altan (Istanbul Technical University), N. Ocakoglu, G. Böhm and K. Tuncer Sarikavak view abstract
Diagenetic controls on the reservoir quality of tight oil-bearing sandstones in the Upper Triassic Yanchang Formation, Ordos Basin, north-central China. 225-244
Penghui Zhang (Hohai University, Nanjing), Yong Il Lee and Jinliang Zhang view abstract
Cover photograph shows the Torre Sant'Emiliano, a 16th century watchtower on the coast of the Salento Peninsula, SE Italy. The tower stands on an outcrop of the Oligocene Porto Badisco Calcarenites which unconformably overlie Eocene limestones of the Torre Specchialaguardia Formation. Porosity modelling of the Porto Badisco Calcarenites is discussed in the paper by Brandano et al. on pp 191-208 of this issue. Photo by Marco Brandano.

Vol. 43, no 1, January 2020

Reservoir characterization of an isolated Middle Miocene carbonate platform: Ca Voi Xanh field, offshore Vietnam. 5-26
C. J. Strohmenger (ExxonMobil Upstream Integrated Solutions), L. Meyer, L. A. Yose, D. S. Walley, M. Md. Yusoff, D. Y. Lyons, J. Sutton, J. M. Rivers, D. Carlo, B. von Schnurbein, D. Zhou and N. X. Phong view abstract
Gas-hydrate systems and gas volumetric assessment in the lower Fangliao Basin, Taiwan accretionary wedge. 27-48
F. Dirgantara (National Central University, Taiwan), A. T-S. Lin, C-S. Liu, C-C. Lin and S-C. Chen view abstract
Source rock quality variations of Upper Jurassic – lowermost Cretaceous marine shales and their relationship to oils in the Valdemar field, Danish North Sea. 49-74
L. Ponsaing (Geological Survey of Denmark and Greenland), H. I. Petersen, J. A. Bojesen-Koefoed, H. P. Nytoft, N. H. Schovsbo and L. Stemmerik view abstract
Reservoir properties of Barremian – Aptian Urgonian Limestones, SE France, Part 1: Influence of structural history on porosity-permeability variations. 75-94
J. Cochard (Aix-Marseille University, France), P. Léonide, J. Borgomano, Y. Guglielmi, G. Massonnat, J-P. Rolando, L. Marié and A. Pasquier view abstract
Dating and correlation of the Baluti Formation, Kurdistan, Iraq: implications for the regional recognition of a Carnian "marker dolomite", and a review of the Triassic to Early Jurassic sequence stratigraphy of the Arabian Plate by G. A. Lunn, S. Miller and A. Samarrai (JPG 42(1), 5-36, 2019)
Discussion. by R. B. Davies (Davies Geoconsulting) and M. D. Simmons. 95–108
Reply, by G. A. Lunn (Consultant). 109-126
Carbonate reservoir rocks at giant oil and gas fields in SW Iran and the adjacent offshore: A review of stratigraphic occurrence and poro-perm characteristics.
by B. Esrafili-Dizaji and H. Rahimpour-Bonab (JPG vol. 42:4, October 2019, pp 343-370): Erratum. 127-128
Cover image shows a photomicrograph of a Middle Miocene carbonate reservoir rock from the Ca Voi Xanh gas field, offshore Vietnam. The grainstone contains red algal fragments and large benthic foraminifera; porosity is shown in blue. Carbonates at this field underwent predominately early meteoric dissolution and variable levels of cementation. Reservoir rocks at Ca Voi Xanh are the subject of the paper on pp 5-26 of this issue by Strohmenger et al. Photo by C. J. Strohmenger (ExxonMobil).