Published in the UK © 2018 Scientific Press Ltd.

To see all the articles in full follow
the link to the Wiley InterScience
site.
Contents of Vol. 41, 2018
Vol. 41, no. 1, January 2018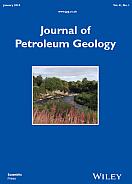 • An introduction to the Precambrian petroleum system in the Sankuru-Mbuji-Mayi-Lomami-Lovoy Basin, South-Central Democratic Republic of Congo
F. Delpomdor (Illinois State Geological Survey), S. Bonneville, K. Baert and A. Préat view abstract
• Regional 3D modelling of the Permo-Carboniferous Al Khlata Formation in the Rima Area, eastern flank of the South Oman Salt Basin
F. G. Al-Abri (PDO), A. P. Heward and I.A. Abbasi view abstract
• A stratigraphic review of the Late Callovian to Oxfordian interval, Fisher Bank Basin area (UK Sector, Central North Sea)
S. Duxbury (Duxbury Stratigraphic Consultants, UK) and M. Vieira (Shell UK) view abstract
• Presence of natural gas in basinal facies of the Zechstein Limestone in a copper mine in SW Poland
A. Poszytek (University of Warsaw), L. Dudek and R. Rozek view abstract
• Burial and thermal history modelling of the Ediacaran succession in western and SW Ukraine and Moldova
N. Radkovets (Institute of Geology and Geochemistry of Combustible Minerals, Academy of Sciences, Ukraine), P. Kosakowski, J. Rauball and A. Zakrzewski view abstract
• International Events
• The cover photograph shows an outcrop of the Callovian to Oxfordian Clynekirkton Sandstone Formation in the banks of the River Brora near the northern coast of the Moray Firth (NE Scotland). The photograph was taken close to a shaft leading into the now disused Brora Colliery, the most northerly coal mine in the UK. Onshore Middle to Upper Jurassic rocks of the Moray Firth provide important analogues for reservoir rocks in the Central North Sea, as discussed by Duxbury and Vieira in the paper on pp. 47-65 of this issue. Photo by Andrew J. Bloodworth (British Geological Survey).