Published in the UK © 2018 Scientific Press Ltd.

To see all the articles in full follow
the link to the Wiley InterScience
site.
Contents of Vol. 39, 2016
Vol. 39 no. 4, October 2016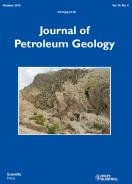 • Geological interpretation of 2D seismic reflection profiles onshore Lebanon: Implications for petroleum exploration
F. H. Nader (IFP Energies nouvelles), P. Browning-Stamp and J.-C. Lecomte view abstract
• Stratigraphy and petroleum systems of the Palaeozoic (pre-Khuff) succession, Qatar
H. Al-Saad and F. N. Sadooni (Qatar University) view abstract
• Petrophysical and sedimentological characterization of the Aptian Shu'aiba (Lower Qamchuqa) Formation reservoir at the Khabbaz oilfield, northern Iraq
F. Qader and B. Al-Qayim (Sulaimani University) view abstract
• Organic geochemistry of crude oils and Upper Cretaceous source rocks from Concession 11, West Sirte Basin, Libya
W. Sh. El Diasty (Mansoura University, Egypt), S. Y. El Beialy, K. E. Peters, H. El Atfy, A. M. Gheith and N. N. Agha view abstract
• Index, volume 39, 2016
• International Events
• Cover photograph shows the Tabin gorge, NE Iraq, where the lighter-coloured, well-bedded limestones of the Late Cretaceous Kometan Formation overlie the Aptian shallow-water dolomites and limestones of the Lower Qamchuqa Formation. The type section of the Qamchuqa Formation in the Qamchuqa gorge is about 10 km to the west of this location. Time-equivalent rocks in the subsurface are known as the Shu'aiba Formation. The reservoir characteristics of the Shu'aiba Formation at the Khabbaz oilfield is the subject of the paper by Qader and Al-Qayim on pp. 375-392 of this issue. Photo by Fouad M. Qader.
Vol. 39, no. 3, July 2016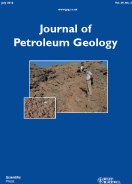 • Cretaceous - Neogene structural evolution of SE Abu Dhabi, United Arab Emirates
M. Y. Ali (Petroleum Institute, Abu Dhabi) and A. Farid view abstract
• Oil family typing, biodegradation and source rock affinity of liquid petroleum in the Danish North Sea
H. I. Petersen (Maersk Oil, Denmark), M. Hertle, A. Juhasz and H. Krabbe view abstract
• Characterization of the Late Aptian top-Dariyan disconformity surface, offshore SW Iran: a multi-proxy approach
M. Naderi-Khujin (University of Isfahan, Iran), A. Seyrafian, H. Vaziri-Moghaddam and V. Tavakoli view abstract
• A third-order unconformity within Lower Ordovician carbonates in the Tarim Basin, NW China: implications for reservoir development
Gao Zhiqian (China University of Geosciences, Beijing), Fan Tailiang, Ding Qunan and Hu Xiaolan view abstract
• Petroleum systems of the West Iberian Margin: a review of the Lusitanian Basin and the deep offshore Peniche Basin
N. Pimentel (Universidade Lisboa, Portugal) and R. Pena dos Reis view abstract
• International Events
• Cover photograph shows Maastrichtian shallow-water limestones of the Simsima Formation outcropping on the flank of Jabal Sumeini, NW Oman Mountains. At this exposure the formation includes a "death assemblage" of Acteonellid gastropods which together with rudists and corals were probably transported by wave action from more open-marine locations into local graveyards. The Simsima Formation is bounded above by the K-T unconformity; this and other unconformities in the Late Cretaceous - Miocene succession in SE Abu Dhabi are described in the paper by Ali and Farid on pp. 221-246 of this issue. Photo by Michael P. Searle.
Vol. 39, no. 2, April 2016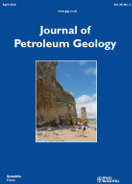 • Organic geochemistry of Barents Sea petroleum: thermal maturity and alteration and mixing processes in oils and condensates
B. Lerch (University of Oslo) D. A. Karlsen, Z. Matapour, R. Seland and K. Backer-Owe view abstract
• Micro- and nanopores in tight Zechstein 2 Carbonate facies from the Southern Permian Basin, NW Europe
M. Słowakiewicz (University of Bristol) E. Perri and Maurice E. Tucker view abstract
• Burial, temperature and maturation history of the Austral and western Malvinas Basins, southern Argentina, based on 3D basin modelling
V. F. Sachse (RWTH Aachen University), Z. Anka, R. Littke, J. F. Rodriguez, B. Horsfield and R. di Primio view abstract
• Burial and thermal history modelling of the Mannar Basin, offshore Sri Lanka
U. Premarathne (Hokkaido University), N. Suzuki, N. Ratnayake and C. Kularathne view abstract
• International Events
• Cover photograph shows the Upper Permian Zechstein dolomites of the Roker Formation at Marsden Bay, near South Shields, NE England. The facies are lower slope turbidites interbedded with organic-rich laminites which are potential source rocks. The Roker Formation is equivalent to the Hauptdolomit of the North Sea and the Main Dolomite of Poland which are important reservoir rocks, with a range of porosity types including micro- and nanopores as described in the paper by Slowakiewicz et al. on pp. 149-168 of this issue.
Photograph by Maurice E. Tucker.
Vol. 39, no. 1, January 2016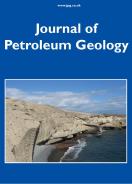 • Solid hydrocarbons in Proterozoic dolomites, Taoudeni Basin, Mauritania.
E. Albert-Villanueva (Barcelona University), A. Permanyer, J. Tritlla, G. Levresse and R. Salas view abstract
• Controls on reservoir diagenesis in the Lower Goru Sandstone Formation, Lower Indus Basin, Pakistan.
M. Omer Baig (Pakistan Petroleum Ltd), N. B. Harris, H. Ahmed and M. O. A. Baig view abstract
• Organic geochemical characterization and shale gas potential of the Permian Barren Measures Formation, West Bokaro sub-basin, eastern India.
A. Tewari (IIT Bombay), S. Dutta, and T. Sarkar view abstract
• Integration of biodegradation and migration of hydrocarbons in a 2D petroleum systems model: application to the Potiguar Basin, NE Brazil.
M. Ducros (IFP Energies nouvelles), B. Carpentier, S. Wolf and M-C. Cacas view abstract
• Use of X-ray computed tomography to quantify the petrophysical properties of volcanic rocks: a case study fromTenerife, Canary Islands.
C. Couves (University of Southampton), S. Roberts, A. Racey, I. Troth and A. Best view abstract
• Geochemical characterization of the Permian–Triassic transition at outcrop, Central Saudi Arabia.
H. A. Eltom (KFUPM), O. M. Abdullatif, L. O. Babalola, M. A. Bashari, M. Yassin, M. S. Osman and A. M. Abduraziq view abstract
• Erratum.
• Events.
• Cover photograph shows pyroclastic rocks in coastal cliffs in the Bandas del Sur region of SW Tenerife. The pyroclastics consist of pumice fall deposits and massive ignimbrites with a welded base to the succession. Ignimbrites host significant porosity but low permeability and are potential reservoir rocks for hydrocarbons. Porosity and permeability relationships within Tertiary-Recent volcanic rocks in SW Tenerife are discussed by Couves et al. in the paper on pp. 79-94 of this issue.