Published in the UK © 2018 Scientific Press Ltd.
Contents of Vol. 27, nos 1-4, 2004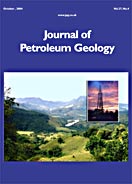 Vol. 27, no. 4, October 2004
• The Gibraltar discovery, Northern Llanos foothills, Colombia: case history of an exploration success in a frontier area
by T. Villamil et al. (Ecopetrol, Colombia) view abstract
• Aspects of the petroleum geology of the Bermejo field, Northwestern Oriente Basin, Ecuador
by G. H. Lee (Pukyong National University, Korea) et al. view abstract
• Stratigraphy, depositional setting and reservoir characteristics of Turonian-Campanian carbonates in Central Iraq
by F. N. Sadooni (UAE University) view abstract
• Middle Miocene Dashava Formation sandstones, Carpathian Foredeep, Ukraine
by I. Kurovets et al. (IGGCM, Lviv) view abstract
• The generation of immature oils in the lacustrine Jiyang mega-depression, Bohai Bay Basin, China
by Zhang Linye, Zhang Shouchun et al. (SINOPEC, Shandong, China). view abstract
• Erratum
• Index, volume 27, 2004





Vol. 27, no. 3, July 2004
• Facies and poroperm characteristics of a carbonate shoal (Muschelkalk, South German Basin): a reservoir analogue investigation
by M. Ruf and T. Aigner (Tübingen University) view abstract
• Experimental verification of oil saturation and losses during secondary migration
by X. Luo (Chinese Academy of Sciences) et al. view abstract
• The hydrocarbon potential of Lebanon: new insights from regional correlations and studies of Jurassic dolomitization
by F. H. Nader (American University Beirut) and R. Swennen view abstract
• Determination of fault slip components using subsurface structural contours: methods and examples
by S-S. Xu (Instituto Mexicano del Petróleo), L. G. Velasquillo-Martinez, J. M. Grajales-Nishimura, G. Murillo-Muñetón, J. García-Hernandez and A. F. Nieto-Samaniego view abstract
• Organic geochemical analysis of bituminous sandstones in the Albertine Graben, Uganda
by Dou Lirong (CNODC, China), E. Rubondo (PEPD, Uganda) et al. view abstract
• Cover photo:
Dolostones of the Jurassic Kesrouane Formation, Nahr Ibrahim Valley, Lebanon. The inset shows vug structures in hand specimen. See the related paper by Nader and Swennen in this issue.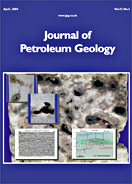 Vol. 27, no. 2, April 2004
• Upper Ordovician carbonate mounds on Gotland, Central Baltic Sea: distribution, composition and reservoir characteristics
by U. Sivhed (Geological Survey of Sweden), M. Erlström, J. A. Bojesen-Koefoed and A. Löfgren view abstract
• Stratigraphic controls on Palaeozoic petroleum systems, Ghadames Basin, Libya
by A.M. Dardour (Petroleum Research Centre, Tripoli, Libya), D. R. D. Boote and A. W. Baird view abstract
• Tempestite deposits on a storm-influenced carbonate ramp: an example from the Pabdeh Formation (Paleogene), Zagros Basin, SW Iran
by H. Mohseni (Bu-Ali Sina University, Hamedan, Iran) and I. S. Al-Aasm (University of Windsor, Canada) view abstract
• Depositional history and sequence stratigraphy of outcropping Tertiary carbonates in the Jahrum and Asmari Formations, Shiraz area (SW Iran)
by M. Nadjafi, A. Mahboubi, R. Moussavi-Harami and R. Mirzaee (Ferdowsi University of Mashhad, Iran) view abstract
• Nasara-1 well, Gongola Basin (Upper Benue Trough, Nigeria): source-rock evaluation
by N. G. Obaje(Abubakar Tafawa Balewa University, Bauchi, Nigeria), H. Wehner, M. B. Abubakar and M. T. Isah view abstract
• Short note:
NMR analysis of amber in the Zubair Formation, Khafji oilfield (Saudi Arabia - Kuwait) coal as an oil source rock?
by G. Poinar Jr (Oregaon State University), J. B. Lambert and Yuyang Wu view abstract
• Cover photo:
Background shows oil-saturated mouldic pores (2-5mm Ø) in algal limestone from an Upper Ordovician carbonate mound on Gotland (Central Baltic). Inset core photos show oil-saturated vugs, stylolites and fractures. Also shown are a seismic section across a typical mound in northern Gotland with interpreted geological model. See the related paper by Sivhed et al.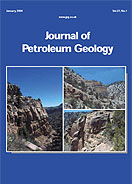 Vol. 27, no. 1, January 2004
• Mesoscale heterogeneity of fluvial-lacustrine reservoir analogues:
examples from the Eocene Green River and Colton Formations,
Uinta Basin, Utah, USA
by A. W. Taylor (Utah State University) and B. D. Ritts view abstract
• Organic facies, depositional environment and petroleum generating
characteristics of the lacustrine Shahejie Formation, ES4 Member,
Western Depression, Liaohe Basin (NE China)
by A. Fuhrmann (Forschungszentrum Jülich GmbH, Germany), B. Horsfield, J. F. Lòpez, Liguo Hu and Zhanwen Zhang view abstract
• Ross and Bude Formations (Carboniferous, Ireland and England):
reinterpreted as lake-shelf turbidites
by R. Higgs (Geoclastica Ltd, UK) view abstract
• Potential structural traps associated with Lower Carboniferous salt
in the northern Tarim Basin, NW China
by Jiangyu Zhou (Guangzhou Institute of Geochemistry, Chinese Academy of Sciences), Zhongmin Lin, Chuangrong Luo and Xiepei Wang view abstract
• Reserves/resource classification schemes used in Russia
and Western Countries: a review and comparison
by V. I. Poroskun (VNIGNI, Moscow), A. M. Khitrov, O. V. Zaborin, M. Y Zykin, S. Heiberg and E. Søndenå view abstract
• Extensional evolution of the Gulf of Mexico basin and the deposition
of Tertiary evaporites, by H. H. Wilson JPG 26(4),
Discussion, by C. Talbot (Uppsala University) view abstract
Reply, by H. H. Wilson view abstract
• Cover: Non-marine sedimentary rocks at outcrop in the Eocene Uinta Basin, Utah. Left: Amalgamated fluvial channel-fill deposits of the Colton Formation. Top right: Lacustrine-deltaic strata of the Green River Formation. Bottom right: Lenticular distributary channel deposits in the lacustrine-deltaic facies of the Green River Formation.
See the related paper by Taylor and Ritts in this issue.