Published in the UK © 2017 Scientific Press Ltd.

To see all the articles in full follow
the link to the Wiley InterScience
site.
Contents of Vol. 40, 2017
Vol. 40 no. 1, January 2017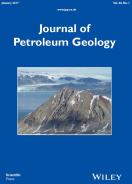 • Migrated petroleum in outcropping Mesozoic sedimentary rocks in Spitsbergen: organic geochemical characterization and implications for regional exploration
T. B. Abay (University of Oslo), D. A. Karlsen, B. Lerch, S. Olaussen, J. H. Pedersen and K. Backer-Owe view abstract
• Organic geochemistry of oil and natural gas in the West Dikirnis and El-Tamad fields, onshore Nile Delta, Egypt: interpretation of potential source rocks
M. Leila (University of Geneva) and A. Moscariello view abstract
• Variations in petrophysical properties of Upper Palaeozoic mixed carbonate and non-carbonate deposits, Spitsbergen, Svalbard Archipelago
E. Jafarian (VU University, Amsterdam), L. M. Kleipool, C. Scheibner, D. P. G. Blomeier and J. J.G. Reijmer view abstract
• Depositional and diagenetic barriers, baffles and conduits: Permian – Carboniferous Unayzah reservoir, Nuayyim field, Central Saudi Arabia
K. Al-Ramadan (KFUPM, Dhahran), S. G. Franks, S. Al-Shammari, A. Rees, A. Koeshidayatullah and S.Abu-Khamsin view abstract
• Reservoir potential of deep-water lacustrine delta-front sandstones in the Upper Triassic Yanchang Formation, western Ordos Basin, China
Shengli Li (China University of Geosciences Beijing), Y. Zee Ma, Xinghe Yu and Shunli Li view abstract
• Erratum: Geological interpretation of 2D seismic reflection profiles onshore Lebanon: Implications for petroleum exploration, by F. H. Nader (IFP Energies nouvelles), P. Browning-Stamp and J.-C. Lecomte Journal of Petroleum Geology, volume 39, no.4 (October 2016), pp 333-356
• International Events
• Cover photograph shows Zeppelinfjellet, a mountain (556 m) near the Ny Ålesund research station on the western coast of Spitsbergen, Arctic Norway. The mountain is composed of folded and faulted Late Palaeozoic sedimentary rocks (mixed carbonates and non-carbonates) belonging to the Gipsdalen and Tempelfjorden Groups, the subject of the paper by Jafarian et al. on pp. 59-83 of this issue. Photo by Dierk Blomeier.