To see all the articles in full click here for the Wiley Online Library
Contents of Vol. 40, 2017
Vol. 40, no. 4, October 2017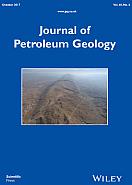 Shallow hydrocarbon indications along the Alpine thrust belt and adjacent foreland basin: distribution and implications for petroleum exploration
D. Misch (

University of Leoben

), W. Leu, R. F. Sachsenhofer, R. Gratzer, B. Rupprecht and A. Bechtel view abstract
I. Becker (

Karlsruhe Institute of Technology, Germany

), P. Wüstefeld, B. Koehrer, M. Felder and C. Hilgers view abstract
Tectonostratigraphic analysis of the Upper Cambrian – Devonian sedimentary succession in the central Darling Basin, SE Australia: An integrated interpretation of seismic, gravity and well data
M. Kh. Khalifa (

University of Zawia, Libya

), K J. Mills and Kh. M. Al-Kahtany view abstract
Prediction of open fractures in the Asmari Formation using geometrical analysis: Aghajari Anticline, Dezful Embayment, SW Iran
M. Vatandoust (

University of Isfahan

) and A. Farzipour Saein view abstract
Index
International Events
The cover photograph shows an aerial view along the axis of the Soltan anticline in the Zagros foldbelt (Lurestan, SW Iran: track at bottom right for scale). Outcropping at the surface are carbonates of the Oligocene – Miocene Asmari Formation, a reservoir unit at giant and super-giant oilfields which produce from Zagros fold structures. At these structures, fracturing in the Asmari Formation enhances its reservoir properties and changes in the intensity of fracturing can be related to changes in the curvature of the fold. The paper by Vatandoust and Farzipour Saein on pp. 413-426 of this issue investigates fold-related fracturing of the Asmari Formation at the Aghajari anticline in the Dezful Embayment. Photo by Shahram Sherkati (courtesy NIOC).
Vol. 40, no. 3, July 2017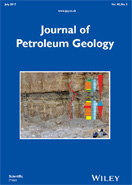 A combined deterministic-probabilistic method of estimating undiscovered hydrocarbon resources
D. G. Quirk (

Manx Geological Survey/ Manchester University

), M. J. Howe and S. G. Archer view abstract
Are shoal reservoirs discrete bodies? A coquina shoal outcrop analogue from the Mid Triassic Upper Muschelkalk, SW Germany
A. Petrovic and T. Aigner (

University of Tuebingen, Germany

) view abstract
Burial history and thermal maturity evolution of the Termit Basin, Niger
M. Harouna (

Université Abdou Moumouni, Niamey, Niger

), J. D. Pigott and R. P. Philp view abstract
Organic geochemistry of the Lower Silurian Tanezzuft Formation and biomarker characteristics of crude oils from the Ghadames Basin, Libya
W. Sh. El Diasty (

Mansoura University, Egypt

), S. Y. El Beialy, F. I. Fadeel, K. E. Peters, and D. J. Batten view abstract
Characterization and DFN modelling of the fracture network in a Mesozoic karst reservoir: Gomba oilfield, Paleogene Basin, Central Hungary
M. Bauer and T. M. Tóth (

University of Szeged, Hungary

) view abstract
International Events
Cover photograph shows two bioclast-rich intervals separated by a claystone-dominated interval in the Mid-Triassic Quaderkalk Formation exposed in a quarry wall near the city of Würzburg in SW Germany. The superimposed logs show the cyclicity and 1-D facies stacking pattern, and (to the left) the gamma profile. The Quaderkalk Formation represents an outcrop analogue for sub-seismic scale carbonate ramp reservoirs, and is the subject of the paper by Petrovic and Aigner on pp. 249-275 of this issue. Photo by Alexander Petrovic.
Vol. 40, no. 2, April 2017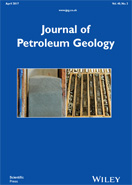 Geochemical characteristics of the Skrugard oil discovery, Barents Sea, Arctic Norway: a "palaeo-biodegraded - gas reactivated" hydrocarbon accumulation
Z. Matapour and D. A. Karlsen (

Oslo University

) view abstract
Composition of diamondoids in oil samples from the Alpine Foreland Basin, Austria: potential as indices of source rock facies, maturity and biodegradation
L. Pytlak (

Montanuniversität Leoben

), A. Kowalski, D. Gross and R. F. Sachsenhofer view abstract
Hydrocarbon generation potential and depositional environment of shales in the Cretaceous Napo Formation, eastern Oriente Basin, Ecuador
Xiao-Fa Yang (

PetroChina, Beijing

), Yin-Fu Xie, Zhi-Wei Zhang, Zhong-Zhen Ma, Yu-Bing Zhou, Ya-Ming Liu, Dan-Dan Wang and Yong-Bin Zhao
view abstract
Geochemistry and origin of Upper Cretaceous oils from the Termit Basin, Niger
Bang Liu (

PetroChina, Beijing

), Guangya Zhang, Fengjun Mao, Jiguo Liu and Mingsheng Lü view abstract
International Events
Cover photographs show (left) a core sample of an Eocene fine-grained sandstone (reservoir rock), and (right) core boxes containing Oligocene organic-rich marls (source rocks), both from the Austrian part of the Alpine Foreland Basin. The upper part of the sandstone has greater permeability compared to the more highly-cemented part below. The geochemical characterization of oils from this basin is the subject of the paper by Pytlak et al. on pp. 153-171 of this issue. Photos by Lukasz Pytlak.
Vol. 40 no. 1, January 2017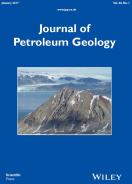 Migrated petroleum in outcropping Mesozoic sedimentary rocks in Spitsbergen: organic geochemical characterization and implications for regional exploration
T. B. Abay (

University of Oslo

), D. A. Karlsen, B. Lerch, S. Olaussen, J. H. Pedersen and K. Backer-Owe view abstract
Organic geochemistry of oil and natural gas in the West Dikirnis and El-Tamad fields, onshore Nile Delta, Egypt: interpretation of potential source rocks
M. Leila (

University of Geneva

) and A. Moscariello view abstract
Variations in petrophysical properties of Upper Palaeozoic mixed carbonate and non-carbonate deposits, Spitsbergen, Svalbard Archipelago
E. Jafarian (

VU University, Amsterdam

), L. M. Kleipool, C. Scheibner, D. P. G. Blomeier and J. J.G. Reijmer view abstract
Depositional and diagenetic barriers, baffles and conduits: Permian – Carboniferous Unayzah reservoir, Nuayyim field, Central Saudi Arabia
K. Al-Ramadan (

KFUPM, Dhahran

), S. G. Franks, S. Al-Shammari, A. Rees, A. Koeshidayatullah and S.Abu-Khamsin view abstract
Reservoir potential of deep-water lacustrine delta-front sandstones in the Upper Triassic Yanchang Formation, western Ordos Basin, China
Shengli Li (

China University of Geosciences Beijing

), Y. Zee Ma, Xinghe Yu and Shunli Li view abstract
Erratum: Geological interpretation of 2D seismic reflection profiles onshore Lebanon: Implications for petroleum exploration, by F. H. Nader (IFP Energies nouvelles), P. Browning-Stamp and J.-C. Lecomte Journal of Petroleum Geology, volume 39, no.4 (October 2016), pp 333-356
International Events
Cover photograph shows Zeppelinfjellet, a mountain (556 m) near the Ny Ålesund research station on the western coast of Spitsbergen, Arctic Norway. The mountain is composed of folded and faulted Late Palaeozoic sedimentary rocks (mixed carbonates and non-carbonates) belonging to the Gipsdalen and Tempelfjorden Groups, the subject of the paper by Jafarian et al. on pp. 59-83 of this issue. Photo by Dierk Blomeier.