To see all the articles in full click here for the Wiley Online Library
Contents of Vol. 42, 2019
Vol. 42, no 1, January 2019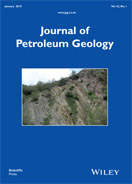 Dating and correlation of the Baluti Formation, Kurdistan, Iraq: Implications for the regional recognition of a Carnian "marker dolomite" and a review of the Triassic to Early Jurassic sequence stratigraphy of the Arabian Plate
G. A. Lunn (PGA Ltd), S. Miller and A. Samarrai view abstract
Hydrocarbon potential and palaeo-depositional environment of lacustrine source rocks: Middle Jurassic Shimengou Formation, northern Qaidam Basin, NW China
Q. T. Meng (Jilin University), A. Bechtel, R. F. Sachsenhofer, Z. J. Liu, D. Gross, P. C. Sun, F. Hu, L. Li, K. B Wang, C. Xu, L. L. Chen and W. R. Zeng view abstract
Characterization of Upper Palaeozoic organic-rich units in Svalbard: Implications for the petroleum systems of the Norwegian Barents Shelf
J. B. Nicolaisen (University of Copenhagen), G. Elvebakk, J. Ahokas, J. A. Bojesen-Koefoed, S. Olaussen, J. Rinna, J.E. Skeie and L.Stemmerik view abstract
Effects of micrite content on calcite cementation in an Upper Jurassic carbonate reservoir, eastern Saudi Arabia
Shuo Zhang (Aramco Research Center-Houston) and Peng Lu view abstract
Petroleum geology of the Nogal Basin and surrounding area, Northern Somalia: Part 1, Stratigraphy and tectonic evolution
M.Y. Ali (Khalifa University of Science and Technology, Abu Dhabi) and J. Lee view abstract


Cover photograph shows steeply dipping shales and limestones of the Upper Triassic (Upper Carnian – Lower Norian) Baluti Formation (left and centre) and overlying dolostones of the Sarki Formation (top right) at outcrop in the north flank of the Jebel Gara Anticline, Kurdistan, North Iraq (36° 59' 34.1"N, 43° 32' 23.3"E). The Sarki – Baluti contact is around the level of the grassy patch in the gully on the right. The Baluti shales seal the Triassic petroleum system in a number of Kurdistan fields. Dating of the outcrop-defined Baluti Formation and its correlation to the subsurface provide insight into the Upper Triassic sequence stratigraphy of the Arabian Plate, as discussed in the paper by Lunn et al. on pp. 5-36 of this issue. Photograph by Ayad Nuri Faqi, Soran University.