To see all the articles in full click here for the Wiley Online Library
Contents of Vol. 28, nos 1-4, 2005
Vol.28, no.4, October 2005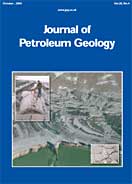 Volume 28, no. 3, July 2005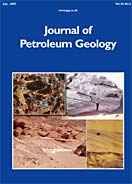 Floodplain deposits and soil classification: The prediction of channel sand distribution within the Triassic Argilo-Greseux Inferieur, Berkine Basin, Algeria.
by N. Sabaou (

Badley Ashton & Associates

) et al. view abstract
Late to Middle Jurassic source facies and quality variations, South Viking Graben, North Sea
by H. Justwan (

Univ. of Bergen

) et al. view abstract
The structural style of sedimentary basins on the shelves of the Laptev Sea and western East Siberian Sea, Siberian Arctic
by D. Franke and K. Hinz (

BGR Hannover

) view abstract
A review of geological data that conflict with the paradigm of catagenic generation and migration of oil
by H. Hugh Wilson (

Lothian, USA

) view abstract
Source rock characterization based on biological marker
Distributions of crude oils in the Southern Gulf of Suez, Egypt
by M. Younes (

Alexandria University

) and R. P. Philp view abstract
Hydrocarbon source rocks and generation history
in the Lunnan oilfield area, northern Tarim Basin (NW China)
by X. M. Xiao (

Guangzhou Institute of Geochemistry, China

) et al. view abstract
International Events
Cover: Outcrop photographs of the Triassic Argilo-Grèseux Inférieur, a fluvial-lcustrine sandstone reservoir rock in te Berkine Basin of eastern Algeria. Photomicrograph shows the pedogeni features of a purple (mature) palaeosols recovered from 2970m. See the related paper by Sabaou et al.
Volume 28, no. 2, April 2005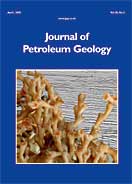 A method for analyzing geothermal gradient histories using the statistical assessment of uncertainties in maturity models
by O. Huvaz (

TPAO, Turkey

) et al. view abstract
Characterisation of epeiric "layer-cake" carbonate reservoirs: Upper Muschelkalk (Middle Triassic), The Netherlands
by R. Borkhataria (

University of Tübingen, Germany

) et al. view abstract


This paper is available as a free download - see Home page

Hydrocarbon seepage and carbonate mound formation: a basin modelling study from the Porcupine Basin (offshore Ireland)
by J. Naeth (

Forschungszentrum Jülich, Germany

) et al. view abstract
Distribution of source rocks and maturity modelling in the northern Cenozoic Song Hong Basin (Gulf of Tonkin), Vietnam 167-184
by C. Andersen (

GEUS, Denmark

) et al. view abstract
Deep seismic reflection data from offshore Western Greece: a new crustal model for the Ionian Sea
by E. Kokinou (

University of Crete

) et al. view abstract
Geochemical characterization of oils and source rocks from Central and NE Syria
by M. Abboud, R. P. Philp and J. Allen (

University of Oklahoma

) view abstract
Cover: Cold water corals from the carbonate mounds of the Porcupine Basin, offshore Ireland. Background image shows seismic evidence of gas chimneys (see the related paper by Naeth et al.).
Photograph courtesy of Professor André Freiwald, IPAL, Erlangen University, Germany
Vol. 28, no.1, January 2005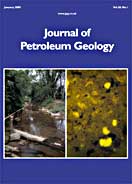 Geochemical characteristics of oil seepages from Dam Thi Nai, Central Vietnam: Implications for hydrocarbon exploration in the offshore Phu Khanh Basin
by J. A. Bojesen-Koefoed (

GEUS, Denmark

) et al. view abstract
Source rock properties of lacustrine mudstones and coals (Oligocene Dong Ho Formation), onshore Song Hong Basin, northern Vietnam
by H. I. Petersen (

GEUS, Denmark

), Vu Tru, L. H. Nielsen, N. A. Duc and H. P. Nytoft view abstract
A re-appraisal of the application of Rock-Eval pyrolysis to source rock studies in the Niger Delta
by A. Akinlua (

Obafemi Awolowo Univ., Nigeria

), T. R. Ajayi, D. M. Jarvie and B. B. Adeleke view abstract
Turbidite, slump and debris flow deposits at the Kalchinskoe and Zimnee oilfields, West Siberian Basin
by S.F. Khafizov (

TNK-BP Exploration Division

) and P. E.Syngaevsky view abstract
Hydrocarbon generation habitat of two Cretaceous carbonate source rocks in SE Turkey
by C. Soylu (

Turkish Petroleum Corporation

) et al. view abstract
Origin and reservoir rock characteristics of dolostones in the Early Triassic Feixianguan Formation, NE Sichuan Basin, China: significance for future gas exploration
by Wenzhi Zhao (

RIPED, Beijing

), Ping Luo, Gengsheng Chen, Hong Cao and Baoming Zhang view abstract
Meetings Reports
Book Review
Cover:Oligocene lacustrine mudstones and coals exposed in the bed of the Dong Ho River, northern Vietnam. (Right) Photomicrograph in reflected blue light of a mudstone sample showing yellowish fluorescing groundmass (amorphous organic matter) with sporinites, and alginites with Botryococcus morphology. See the related paper by Petersen et al