World Petroleum
Basins Map CD:
click here
for details
The Geology of the Oman Mountains by
K.W. Glennie
click here for details

New from Scientific Press
NOW AVAILABLE
"The Geology of Lebanon",
by Fadi H. Nader
click here for details
FREE e-alerts
Sign up to receive free email alerts containing the Table of Contents for the Journal of Petroleum Geology
New from Scientific Press
NOW AVAILABLE
An independent quarterly journal devoted to the geology of oil and natural gas. Editorial preference is given to original papers on oilfield regions of the world outside North America and on topics of general application in petroleum exploration and development operations, including geochemical and geophysical studies, basin modelling and reservoir evaluation.
From January 2006, the Journal has been co-produced with Wiley-Blackwell Publishing Ltd, Oxford. Visit the journal webpage for subscription and other information.

Volume 40 is being published in 2017.

Click on the left and the Back Issues tab above to view the Contents/Abstracts of issues published since 2004.

The Petroleum Geology of Iraq", by A. A. M. Aqrawi, J. C. Goff, A. Horbury and F. N. Sadooni.
click here
for details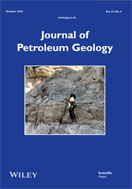 Published in the UK © 2017 Scientific Press Ltd.