To see all the articles in full click here for the Wiley Online Library
Contents of Vol. 44, 2021
Vol. 44, no 1, January 2021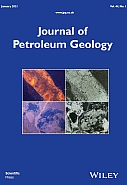 Temporal and spatial distribution of original source rock potential in Upper Jurassic – lowermost Cretaceous marine shales, Danish Central Graben, North Sea
Henrik I. Petersen and Michael Hertle (Total Upstream Danmark A/S) view abstract
Mineralogical, BIB-SIM and petrophysical data in seal rock analysis: a case study from the Vienna Basin, Austria
D. Misch (Montanuniversitaet Leoben), W. Siedl, M. Drews, B. Liu, J. Klaver, M. Pupp and R.F. Sachsenhofer view abstract
The prospect area yield (PAY) method: a remedy for over-optimistic volumetric estimations in conventional petroleum exploration
D. G. Quirk (Manx Geological Survey) and D. W. Schmid view abstract
Organic and inorganic geochemical and mineralogical assessments of the Silurian Akkas Formation, western Iraq
A. I. Al-Juboury (Mosul University), F. M. Qader, J. Howard, S. J. Vincent, A. Al-Hadidy, B. Thusu, M. N.D. Kaye and B. Vautravers view abstract
Reservoir properties of Barremian – Aptian Urgonian limestones, SE France, Part 2: Influence of diagenesis and fracturing
J. Cochard (Aix-Marseille Université), P. Léonide, J. Borgomano, Y. Guglielmi, G. Massonnat, J-P. Rolando, L. Marie and A. Pasquier view abstract
Obituary: Homayoun Motiei, 1947-2020
Cover photo: The photomicrographs on the cover show petrographic and diagenetic features (including cement generations and fractures) of bioclastic packstones from the Barremian – Albian "Urgonian" limestone succession in SE France. Controls on reservoir properties in these limestones are discussed by Cochard et al. in the paper on pp 97-114 of this issue. Photos by Jean Cochard.