To see all the articles in full click here for the Wiley Online Library
Contents of Vol. 46, 2023
Vol. 46, no 4, October 2023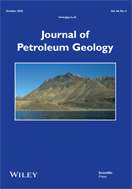 Petrography of pyrobitumens in Middle – Late Jurassic sandstones from thermally degraded hydrocarbon accumulations, East Greenland
Dominic P. Strogen (CASP, UK), John E. A. Marshall, Andrew G. Whitham and Steven D. Andrews view abstract
Pre-, syn- and post-tectonic diagenetic evolution of a carbonate reservoir: a case study of the Lower Cretaceous Fahliyan Formation from the Dezful Embayment, Zagros foldbelt, SW Iran
Forooz Keyvani (NIOC), Ihsan S. Al-Aasm, Howri Mansurbeg and Sadoon Morad view abstract
Jurassic petroleum systems in the Lusitanian Basin, Portugal: new insights based on oil – source rock correlations
Marco Brito (Universidade Federal Fluminense, Brazil), René Rodrigues, Rui Baptista, Luís V. Duarte, Ana C. Azerêdo and Cleveland M. Jones view abstract
A synthesis of the geology and petroleum geology of the Iranian portion of the South Caspian Basin and surrounding areasbr> Mohammad R. Ghassemi (RIES, Geological Survey of Iran), Mark B. Allen and Hossein Motamedi view abstract
The cover photograph shows the Middle – Late Jurassic sandstones of the Vardekløft Group at Steenstrup Dal, Traill Ø, East Greenland. These sandstones host the thermally degraded Bjørnedal hydrocarbon accumulation (see paper by Strogen et al. on pp 415-439 of this issue). Pyrobitumens can be related to several phases of Paleogene igneous activity, including early dolerite sills (foreground) and the later, large-scale Kap Simpson syenite intrusion which forms the high mountains of Forchhammer Bjerg in the background. Photo: Dominic Strogen.
Vol. 46, no 3, July 2023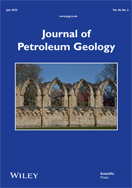 Thematic issue: Zechstein petroleum system elements of the North Sea and adjacent areas Guest Editors: Giancarlo Rizzi, Jo Garland and Peter Browning-Stamp

A regional geological overview of the Upper Permian Zechstein Supergroup (Z1 to Z3) in the SW margin of the Southern North Sea and onshore Eastern England
L. C. Fyfe (Heriot Watt University) and J. R. Underhill view abstract
Stratigraphic framework for Zechstein carbonates on the Utsira High, Norwegian North Sea
L. Stemmerik (GEUS, Copenhagen), K. H. Blinkenberg, I. P. Gianotten, M. S.W. Hodgskiss, A. Lepland, P. Paiste, I. Polonio, N. M.W. Roberts and N. Rameil view abstract
Origin of oil in Upper Permian (Zechstein) carbonate reservoir rocks at the Jarvis structure underlying the Ettrick field, Outer Moray Firth, UK North Sea
M. Slowakiewicz (University of Warsaw) and M. E. Tucker view abstract
The Zechstein Z2 Hauptdolomit platform in the southern UK Mid North Sea High and its associated petroleum plays, potential and prospectivity
P. Browning-Stamp (Horizon Energy Global), C. Caldarelli, G. Heard, J. Ryan and J. Hendry view abstract
Sedimentology, palaeogeography and diagenesis of the Upper Permian (Z2) Hauptdolomit Formation on the southern margin of the Mid North Sea High and implications for reservoir prospectivity
J. Garland (Cambridge Carbonates), C. Tiltman and C. Inglis view abstract
Seismic and petrographic characterisation of the Zechstein Hauptdolomit platforms around the Elbow Spit High, Dutch Offshore
S. H. J. Peeters (TNO, Utrecht), C. R. Geel, J. Garland and R. Bouroullec view abstract
The Upper Permian Zechstein Supergroup of NE England and the adjacent Southern North Sea: a review of its role in the UK's energy transition
L. C. Fyfe (Heriot Watt University) and J. R. Underhill view abstract
Extended Abstract: Upper Permian Halibut Formation, Witch Ground Graben area, North Permian Basin, UKCS: sedimentology, correlation and reservoir quality
G. Rizzi (Task Fronterra Geoscience, Aberdeen) and G. F. Aplin view abstract
Cover: The cover photograph shows the ruins of St Mary's Abbey, York, which was founded in the 11th century and closed in the 1540s. The abbey walls consist of Upper Permian dolomitic limestones of the Cadeby Formation (Zechsteinkalk), part of the basal (Z1) cycle of the Zechstein Supergroup. Photo: JPG.
Vol. 46, no 2, April 2023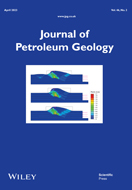 Bitumen resources of the East Siberian Basin
Liu Zuodong (PetroChina), Graham Blackbourn, Wen Zhixing, Wang Hongjun, He Zhengjun, Ma Feng, Liu Xiaobing, Chen Ruiying and Bian Haiguang view abstract
Parameters controlling the geometry of detachment and fault-bend folds: Insights from 3D finite-element models applied to the Ahwaz anticline in the Dezful Embayment, SW Iran
Anis Khalifeh-Soltani (Shahid Beheshti University, Tehran), Mohammad R. Ghassemi, Seyed Ahmad Alavi and Mehdi Ganjiani view abstract
Influence of post-Danian sea-level changes and variations in sedimentation rate on overpressure build up in the clay-rich overburden in the Danish Sector of the North Sea Central Graben
Ivanka Orozova-Bekkevold (University of Copenhagen), Erik Skovbjerg Rasmussen and Niels Hemmingsen Schovsbo view abstract
Cover: The cover image shows in cross-section the final geometry and strain distribution of a modelled fault-bend fold with three different values of the friction coefficient. See the related paper by Khalifeh-Soltani et al. (pp 157-190) in which parameters controlling the geometry of detachment folds and fault-bend folds are investigated using 3D finite-element modelling.
Vol. 46, no 1, January 2023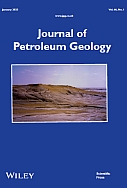 Petroleum systems analysis of the Eastern Arabian Plate: chemometrics based on a review of the geochemical characteristics of oils in Jurassic – Cenozoic reservoirs
Alireza Baniasad (RWTH Aachen University), Ralf Littke and Qusay Abeed view abstract
Application of mud gas data and leakage phenomena to evaluate seal integrity of potential CO2 storage sites: a study of chalk structures in the Danish Central Graben, North Sea
H. I. Petersen (GEUS, Copenhagen) and F. W. H. Smit view abstract
Reservoir characterization of the Pliocene Red Series, LAM field and surrounding areas, offshore Western Turkmenistan
Aneesa Ijaz Rabbani (Khalifa University of Science and Technology, Abu Dhabi), Sameer Al-Hajri, Khaula Shahid Hussain, Graham Blackbourn, Chuangchuang Qi, Abhijith Suboyin, Jassim Abubacker Ponnambathayil, Md Motiur Rahman, Mohamed Haroun, Muhammad A. Gibrata, Lamia Rouis and Yanfidra Djanuar view abstract
Geochemical characteristics of crude oils from the Sharara-C oil field, Murzuq Basin, southwestern Libya
Ramadan Musbah M. Saheed (University of Belgrade), Tatjana Å olević Knudsen, Musbah Abduljalil M. Faraj, Hans Peter Nytoft and Branimir Jovančićević view abstract
Cover photo: The cover photograph shows the Monzhukly outcrop location in western Turkmenistan. Here, Pliocene claystones and interbedded thin sandstones of the Akchagyl Formation are exposed in a low cliff ~12 m high. The claystones form a regional seal for reservoir sandstones in the directly underlying Red Series at oilfields offshore western Turkmenistan such as LAM, the subject of the paper by Rabbani et al. on pp. 77-102 of this issue. Photo by Graham Blackbourn.