To see all the articles in full click here for the Wiley Online Library
Contents of Vol. 45, 2022
Vol. 45, no 3, July 2022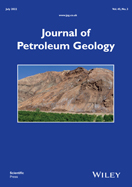 Ratana field, Potwar fold belt, northern Pakistan: high intensity fracture zones related to major thrust faults as revealed by seismic fracture prediction
Khalid Shoaib (Orient Petroleum, Pakistan), Zaheer A. Zafar, Zeeshan Ali Raja and Stuart D. Burley view abstract
The La Luna/Río Negro(.) petroleum system at the Urdaneta West field, Lake Maracaibo Basin, NW Venezuela: 1D basin modelling and secondary oil migration
M. Escobar (University of Zulia, Venezuela), J.G. Díaz, G. Márquez, C. Boente and R. Tocco view abstract
Structural style in the south Dezful Embayment, SW Iran: combined influence of the Zagros Frontal fault system and the detachment in the Miocene Gachsaran Formation
Islam Tavakolian (Tarbiat Modares University, Tehran), Ali Yassaghi and Mahdi Najafi view abstract
Geochemistry and carbon isotope characteristics of associated gases from oilfields in the NW Greater Caucasus, Russia
N. V. Oblasov (Tomsk, Russia), I. V. Goncharov, A. V. Derduga and I. V. Kunitsyna view abstract
Cover photo: The cover photograph shows a surface exposure of part of the active Garmsar Salt Diapir (trees in foreground for scale); to the left are flanking halokinetic strata. The diapir is located in the northern Central Iran Basin near the southern margin of the Alborz Mountains. Evaporites in similar diapirs and other mobile structures in SW Iran are in general sourced from the Miocene Gachsaran Formation, which in the subsurface may serve as an intermediate décollement structurally decoupling the over- and underlying successions. See the associated paper by Tavakolian et al. on pp 303-324 of this issue. Photo by Mahdi Najafi.

Vol. 45, no 2, April 2022

Sequence stratigraphy, palaeogeography and petroleum plays of the Cenomanian – Turonian succession of the Arabian Plate: an updated synthesis
A. D. Bromhead (Halliburton UK), F. S. P. van Buchem, M. D. Simmons and R. B. Davies view abstract
Composition of light hydrocarbons in Jurassic tight oils in the Central Sichuan Basin, China: origin and source rock correlation
Xiaolin Lu (China University of Petroleum Beijing), Meijun Li, Tengqiang Wei, Changjiang Wu, Youjun Tang, Xiaojuan Wang, Haitao Hong, Yuan Liu and Zichao Ran view abstract
Tectonostratigraphic evolution and hydrocarbon prospectivity south of Gwadar Bay, Makran accretionary wedge, offshore SW Pakistan
Conall Cromie (Royal Holloway University of London), Nicola Scarselli, Jonathan Craig, Moin R. Khan and Abid Hussain view abstract
Neocomian – Barremian lacustrine shales in the Mayo Oulo-Léré Basin, North Cameroon: depositional environment and petroleum potential
Bachirou Mfayakouo Chavom (University of Maroua, Cameroon), François Baudin, Josiane F. Kwéa Nzouedjio, Johann Schnyder, Aicha Maloum and Serge Edouard Angoua Biouélé view abstract
Development of fibrous calcite veins related to hydrocarbon generation and overpressuring in organic-rich shale source rocks: the Vaca Muerta Formation, Neuquén Basin, Argentina
J. B. Spacapan (YPF Buenos Aires), M. Comerio, R. Ruiz and E. Rocha view abstract
Cover photo: The cover photograph shows the base of the Tithonian - lower Valanginian Vaca Muerta Formation in the Pampa Tril area in the northern Neuquén Basin, Argentina. The formation is an important source rock in the basin as well as an unconventional reservoir target. Overlying the orange-yellow interval rich in hydrated iron oxide minerals are thick black shales and fine-grained sandstones. Spacapan et al. report on the development of fibrous calcite bed-parallel veins (BPVs) in the Vaca Muerta Formation in the paper on pp. 219-248 of this issue. Inset at lower right shows calcite cements in a BPV within an interval of Vaca Muerta black shales. Photos by Marcos Comerio.

Vol. 45, no 1, January 2022

A new oil seepage in the Oman Mountains and its geological, geochemical and petroleum systems context
Mohammed Al Kindi (Earth Sciences Consultancy Centre, Muscat), Mohammed Al-Ghammari, Alan Heward, Paul Taylor and George Siavalas view abstract
Stratigraphic correlation and source rock characteristics of the Baluti Formation from selected wells in the Zagros fold belt, Kurdistan Region, northern Iraq
Ibrahim M. J. Mohialdeen (University of Sulaimani), Sardar S. Fatah, Rzger A. Abdula, Mohammed H. Hakimi, Wan H. Abdullah, Polla A. Khanaqa and Grenville A. Lunn view abstract
Biomarker geochemistry of Paleogene crude oils and source rocks from the Raoyang Sag, Bohai Bay Basin, NE China: an oil – source rock correlation study
Shengmin Su and Youlu Jiang (China University of Petroleum, Qingdao) view abstract
Severe biodegradation of crude oils from the Quiriquire field, Eastern Venezuela Basin
Liliana López (Universidad Central de Venezuela, Caracas), Jesús A. Romero and Salvador Lo Mónaco view abstract
Geochemical composition of Ordovician oils from the Tuoputai Region, northern Tarim Basin, NW China:source rock correlation
Bin Cheng (China University of Petroleum), Hua Liu, Xian Wu, Shen Wang and Zepeng Wu
view abstract
Cover photo: the cover photograph shows allochthonous Upper Triassic to Middle Jurassic deep oceanic sediments of the Hamrat Duru Group (Hawasina Complex) near the Village of Sabt in Wadi Bani Khalid, NE Oman. The sequence is composed of thinly-bedded radiolarian cherts, shales and micritic limestones. An unusual natural oil seepage occurring nearby in fractured limestones of the Hamrat Duru Group, unrelated to any of Oman's five main oil families, is described by Al Kindi et al. in the paper on pp. 5-28. Photo by Mohammed Al Kindi.